Market Overview
This month's models have been posted.Please be advised of the following:
Labor's 21st century moment
Organized labor has been much in the news lately. From restaurant workers to Hollywood stars, it seems like everyone is walking a picket line, or deciding whether to cross one or not.
This is an important topic to cover here because many of the readers of this newsletter might soon be called on to strike or to act in sympathy with a strike. We're aware that political temperatures are running high and that this is one of those subjects which is bound to touch a nerve, so let's step back and remember that this is a financial newsletter, not a political one. We want to discuss what the recent spate of union activity means to your income and your investments.
To the best of our ability, we'll now wend our way together – factually, dispassionately – through the current state of the American labor movement.
The headlines
The following work stoppages are currently ongoing:
Here is one that was recently resolved:
These were recently averted:
These are on the horizon; maybe they'll happen, but maybe the parties will come to terms:
None of the above lists should be considered exhaustive. Still, employees at Amazon, Starbucks, Google, Fiber and Kickstarter have unionized for the first time, as have those at Trader Joe's, Activision Blizzard, and at least one Apple store. The New York Times has long been a union shop, at least in its newsroom, but 600 of the newspaper's IT workers have also organized recently. The United Food and Commercial Workers has been making inroads throughout the newly legalized cannabis industry.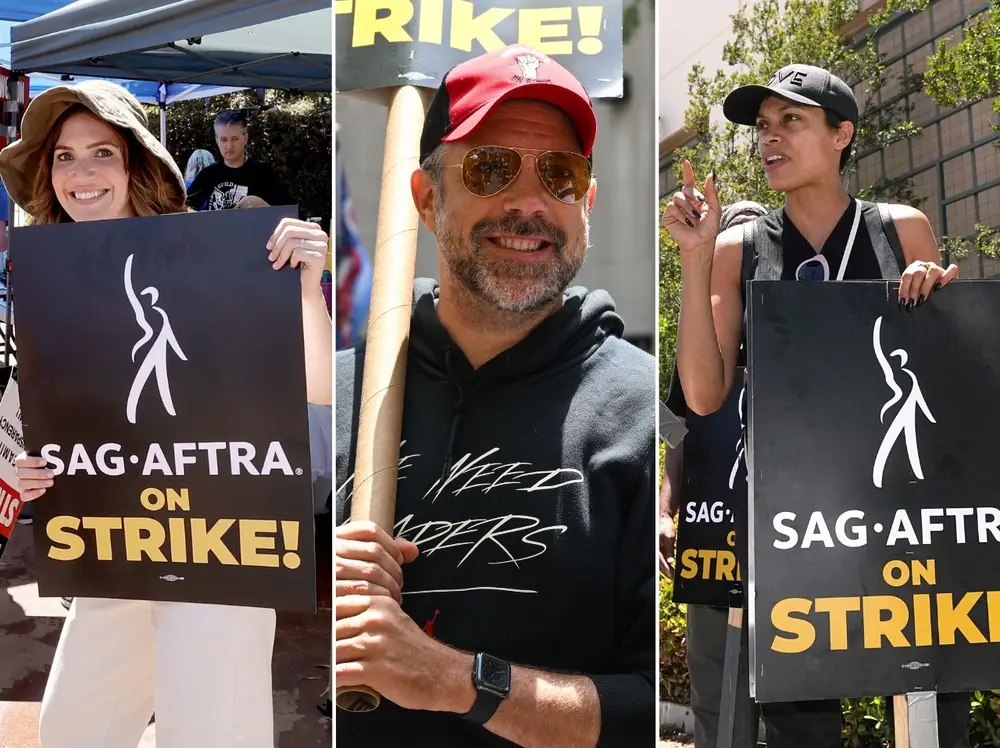 The numbers
"All together, some 322,000 workers have gone on strike so far this year, according to data compiled by Bloomberg Law," the Washington Post reports. "That's the highest number since 2019, when a half a million workers, including tens of thousands of teachers, went on strike."
While union activism is undeniably on an upswing, it's unclear if union membership is.
While the number of union members grew 1.9% in 2022 to 14.3 million, according to the Labor Department, that constitutes only 10.1% of wage and salary workers. And, because the number of jobs grew so quickly in 2022, that proportion is down from 10.3% the year before.
"The 2022 unionization rate (10.1%) is the lowest on record," according to the department's Bureau of Labor Statistics. "In 1983, the first year where comparable union data are available, the union membership rate was 20.1% and there were 17.7 million union workers."
It's also true that almost one-third of public-sector workers are unionized, while only 6% of private sectors workers are. It's worth noting that the public sector, which accounts for roughly one out of every seven American jobs, has not seen much labor action, the tensions in San Jose and Los Angeles aside.
The politics
None of this is happening in a vacuum. Politics is at least as big a driver in the union movement as economics is, and American politics has seen massive change recently.
Organized labor was once nearly synonymous with the Democratic Party, but that actually hasn't been as cut-and-dried for many years. As far back as 1984, the Teamsters endorsed Republican Ronald Reagan for a second term in office. Today, of course, the Trump-supporting faction of the GOP and its sway on that party are evidence that a realignment of the orientation of the two major parties has occurred in recent years. It's difficult to be populist without favoring working people over bosses. That doesn't necessarily mean favoring unions over corporations, but the Republican Party seems to be in mid-pivot on this point. On the one hand, the Trump years saw two Republican-led states enact anti-union laws. On the other, many union members are die-hard Trump backers.
"[U]nion endorsements and union money—both of which go overwhelmingly to Democrats—do not necessarily translate into union votes, and do not necessarily indicate how union members think," according to Strikewave, a union advocacy site. "The surprising defection of many union voters to Donald Trump in key states was one of the major storylines following the 2016 election. ... Some union leaders report substantial support for Trump, especially in more conservative segments of organized labor like the Building Trades."
According to a Strikewave survey, slightly more union members considered themselves strong Republicans in 2020 than strong Democrats. At some point, either these workers will need to pressure their union officials to stop supporting liberal candidates or the GOP will need to adopt a less anti-union posture.
Meantime, conservative, pro-business voices continue to chastise the chummy relationship between the Democratic establishment and the national unions.
"Joe Biden's Department of Labor and the National Labor Relations Board have decided that they're going to use the tools that they have … to basically encourage unionization," National Right to Work Legal Defense Foundation President Mark Mix said, drawing a line from that policy position to the current volume of strikes.
Of course, economics is important too. As Mix points out in his C-SPAN interview, strikers are emboldened by a labor shortage and motivated by the erosion of wages from the past two years' inflation.
It's also true that many of the companies facing labor action are recording impressive and occasionally record-breaking earnings, so it's hard for them to convincingly say they can't afford much of what employees are asking for. According to the U.S. Bureau of Economic Analysis, quarterly after-tax corporate profits hit an all-time high right before the pandemic – and have grown by more than half since.
From the bargaining table to the dinner table
We are struck – no pun intended – by the way these actions and threatened actions are concentrated in the Transportation industry group: UPS, FedEx, American, United, the railroads, the ports.
This is concerning to USPFA members for the obvious reason: It could herald either a huge benefit or a sudden disruption to both passenger airline and air freight pilots. But obviously it effects the entire U.S., not to mention the entire world, economy. It hits us all right in the supply chain. Remember the supposedly "transitory" inflation from the disruptions once the pandemic dissipated? How it became a stubborn reality for months, then years, and is only now slowing down?
Imagine what would happen to the supply chain – and thus the price of goods – if freight couldn't move by air, truck, rail or ship because every hand that ought to be on a wheel or rudder is instead carrying a picket sign.
Do you have enough saved – in a manner you can quickly and without penalty convert into cash – should your hand be one of them? Do you have a strategy for dealing with the rising prices this scenario would bring? Is your portfolio balanced so that, if transportation stocks take a hit, you can ride out the bad news? You might want to bounce some ideas off a trusted financial advisor.