Market Overview
What's keeping crypto from the crypt
"Bitcoin and Ethereum are nothing but thin air," Phillip Streible, chief strategist at Blue Line Futures, told Bloomberg last month. "Bitcoin is going to go to zero."
"Bitcoin and the blockchain are interesting ideas that escaped the laboratory without proper engineering—and it shows," Professor Steven M. Bellovin of Columbia University's computer science department stated in 2017.
"There are indeed important and valuable ideas that exist in bitcoin's design," Nicolas Weaver wrote in Wired in 2013. "But bitcoin itself? I believe its volatility and built-in irreversibility will doom it to the ash-heap of history."
You get the idea. There's always somebody – and often somebody with an informed and well-respected opinion – ready to dig cryptocurrency's grave. Crypto enthusiasts are actually amused by these "bitcoin obituaries". They've been around since 2010 – bitcoin's been around since 2009 – and the website 99bitcoins.com keeps track of them.
One of these days, the naysayers might be proven right. But not today.
Rolling off a log
This Yahoo Finance chart shows how most people see the market for bitcoin, the bellwether cryptocurrency …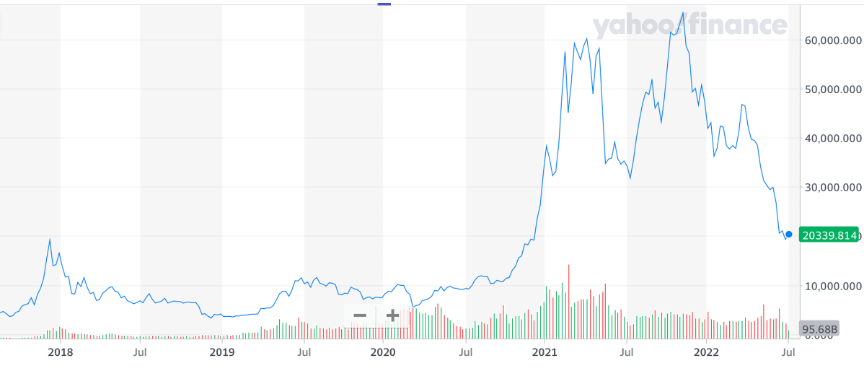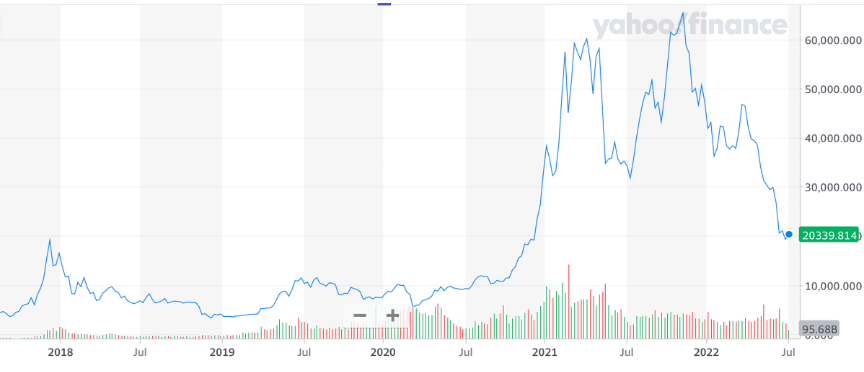 … and this one shows how crypto traders see it: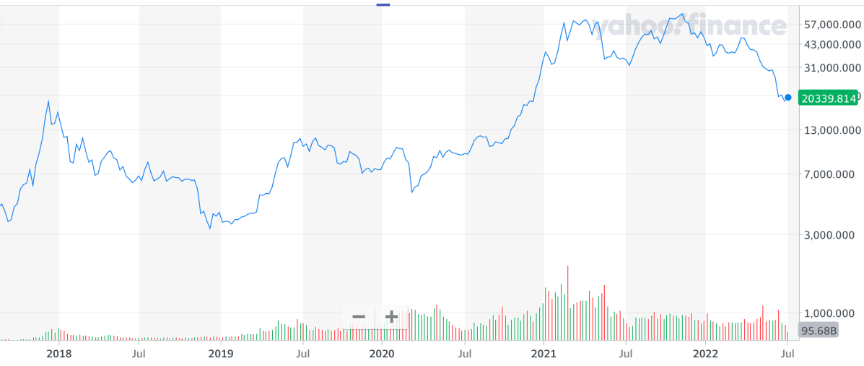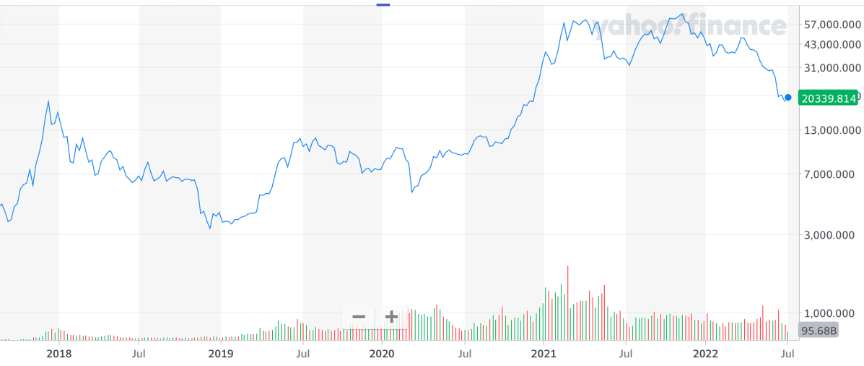 They both show the same data; the only difference is the scale. The top one is the one we're all accustomed to seeing: the linear scale. While it's factually correct, it can be misleading. The difference between $1 and $2 is represented by the same vertical space as between $101 and $102. But think about it: If you made a $1 investment and got $2 back, then you doubled your money. If you invested $101 and got a $102 back, then you made just under 1%. When viewing the trajectory of any asset with a long history – crypto, yes, but also stocks or funds or whatever – it's instructive to view it through another lens.
That lens is the log scale, where the vertical space between $1 and $2 is the same as that between $100 and $200, between $1,000 and $2,000 and so on. As you can see, the volatility in bitcoin that looks so nerve-wracking on the linear scale appears much more muted on the log scale.
Looks aren't everything
Certainly, the log scale can be used as "lipstick on a pig," an attempt to make a dicey investment look more attractive. But in crypto's case, that's probably not a fair assessment.
To start with, by whatever scale you prefer, bitcoin has been a solid two-year, three-year and longer-term winner. Second, there's more to crypto than bitcoin. While this first mover has shown little movement since sinking into its current trough, such alternatives as Solana, Avalanche and Cosmos have been strong performers. Just as with stocks, there has been a flight to value with these digital assets.
That means fundamentals. Despite what detractors say, some cryptocurrencies actually do have inherent value or perform a function. In that way, they're acting more like tech companies, so Wall Street is treating them more like tech stocks.
"Since the start of this year, Bitcoin's price movement has closely mirrored that of the Nasdaq, a benchmark that's heavily weighted toward technology stocks, according to an analysis by the data firm Arcane Research," according to a May 11 New York Times article. "That means that as Bitcoin's price dropped more than 25 percent over the last month … the plunge came in near lock step with a broader collapse of tech stocks as investors grappled with higher interest rates and the war in Ukraine."
The correlation is quite strong between bitcoin's price and the Nasdaq composite. While this suggests that crypto's future is not to replace currencies – and certainly not to replace gold – it could be a way for retail investors with an appetite for risk to place bets on new technologies.
Up, down or sideways?
Nobody knows where the crypto space as a whole goes from here. Will it surge with the utility coins? Will it crash like recent dumpster fires like Terra and Celsius? Will it continue to bump along the bottom like bitcoin?
The answer is probably "all of the above". No matter how badly the broader market is doing, there's almost always a green shoot somewhere. Right now, it seems that the way to succeed in the crypto market is picking individual winners rather than riding the tide. Whatever your strategy, though, it's best to bounce it off an experienced financial professional.